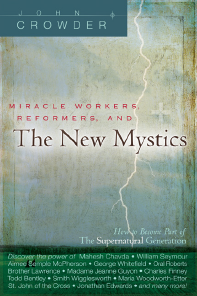 Miracle Workers, Reformers and the New Mystics
PAPERBACK
 
2000 Years of Supernatural Church History
 
by John Crowder
 Destiny Image Publishers
Two thousand years of miracle workers and seers crammed into one generation. The fiery bowls of heaven are being poured out through an extreme body of spiritual forerunners. Are you called to walk among them?

Miracle Workers, Reformers and the New Mystics contains more than 70 photos, illustrations, and biographies of men and women whose lives have demonstrated the phenomenal throughout the ages. Let their stories inspire you to join their ranks as part of this coming revival generation.
What others are saying about The New Mystics . . .
"I have spent many years studying the way the Lord worked throughout the previous generations. I was greatly blessed when I picked up this book and began to dive into it. It will stir the gift of faith in readers to believe for the impossible to be possible. But it will also bring an understanding of the necessity of being a finisher with what has been given. Enjoy this book. I did!"
 ~ Keith Miller, 
   Founder Stand Firm World Ministries
"In The New Mystics, John boldly challenges this present generation through revelation about former and contemporary radical followers after God. This book provokes and fuels the Bride of Christ, who through intimacy, will rise up and unveil the Lord's all surpassing power, to ignite revival in the earth. John Crowder's work should be a foundational prerequisite for all who desire to minister in the realms of the supernatural.."
 
~ Marc & Lydia Buchheit, 
   Healing the Northwest Ministries
"John Crowder's new book takes the hunger you have in your heart to see the miraculous and ignites it on fire. He stretches your vision to believe for mind-blowing miracles, signs and wonders to follow your life today. John paints a beautiful picture of how the mystics of old helped prepare the way for the new generation of miracle workers that the Lord is raising up in this hour. You will be challenged and inspired as you devour each page of this book..
"  
 ~ Jason Phillips, 
   President Revival Town Ministries
"John Crowder is an up and coming prophet of a new generation of an Elijah company. I have been on team with John in prophetic conferences and he has great accuracy and sensitivity to the Spirit of God. His writings will challenge and inspire you in moving out of the norm of Christianity into a life of walking in the Spirit."
 ~ Dennis McNally, 
   Life Links International, New Life Christian Church
"John is a man who has real intimacy with the Lord, and for that reason, I want to highly recommend his new book, The New Mystics. Allow this book to take you on a journey with those who have truly tasted of the Lord and brought something back to affect a whole generation." 
 ~ Ryan Wyatt, 
   President Abiding Glory Ministries
Take a peek inside The New Mystics . . .
Every era has produced extreme spiritual forerunners who have accessed the atmosphere of Heaven, demonstrating miracles, signs, wonders and supernatural experiences in their lives. Beginning with the first century apostles, the extraordinary report of God's Kingdom has passed like a baton to the early Desert Fathers, the Christian mystics of the Dark Ages, right up through the healing revivalists and prophetic voices of the past century. 
But God has reserved the greatest wave of His Spirit for a radical, postmodern generation that will walk the earth in these last days. The stories of long-forgotten saints are an arsenal for this hour. Fiery men with divine encounters and heavenly visitations. Their individual lives serve as a blueprint for an entire company of warriors who will wear those same ancient power mantles, perform the same bizarre feats and achieve even greater exploits to bring in the end-time harvest of souls.
What will be the characteristics of this new generation of mystics? In this timely work, John Crowder offers a fresh perspective on the miracle workers and visionaries of the past, linking their spiritual DNA to the breed of dread champions that is now picking up that baton.
 Who are the New Mystics? They are Joel's Army. Jacob's Generation. The Spotless Bride. The Overcoming Church.

The emerging church is throwing off the grave clothes of religion and picking up a dynamic interface with the spiritual realm. Their hearts are aflame with a burning desire for Jesus Christ. And they will not just talk about Him. They will display His power.
Also available in digital format on: KINDLE
---