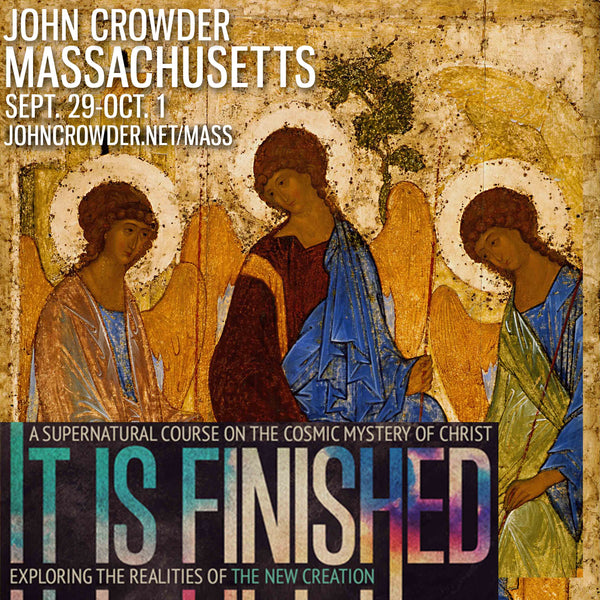 It is Finished: MASSACHUSETTS *September 2023*
Experience the Depths of Mystical Union with Jesus Christ

Three-Day Trinitarian Gospel Intensive

Coming to Pepperell, Massachusetts
Sept. 29-Oct.1, 2023
John Crowder is offering "It is Finished," a three-day in-person course coming to a select number of regions worldwide in 2023, offering in-depth instruction, activation and hands-on impartation. This course provides a seamless marriage of grace-based theological foundations together with a contemplative expression of supernatural experience.
Gain a deeper foundation on the person and work of Christ, including the cosmic implications to humanity as we unpackage the wonders of our new creation identity in Him. In today's modern "do-it-yourself" folk religion, we have often lost sight of the breathtaking vision of the ancient Trinitarian faith handed down by the early church fathers and mothers. The finished work message of the authentic Gospel provides a detox from idolatrous religiosity, leaving us awestruck and intoxicated with joy unspeakable in the tangible love of our effortless union with Father, Son and Spirit.

Experience the electric atmosphere of gathering in-person for communion, celebration and impartation!
Choose Any Donation Amount to Register
We are offering this in-person event to all attendees on a donation basis. First choose your donation amount, then "add to cart" to register. Thank you for your abundant generosity by investing in the Gospel ... it covers our ministry expenses and keeps our orphanages afloat!
Event space limited ... Early registration recommended

Event schedule, meeting times and exact venue location will be emailed to you after you register.



JOHN CROWDER - John loves to push the envelope and provoke God's people to extreme joy! He is an internationally recognized author, speaker, and advocate of supernatural Christianity. John is on the forefront of a fresh renewal movement marked by ecstatic experience, miracles and recovering the foundational preaching of the cross of grace. John hosts evangelism campaigns, plants children's homes and equips the church at events worldwide. Along with his bi-annual magazine, The Ecstatic, John has also written seven books - Mystical Union, Seven Spirits Burning, The Ecstasy of Loving God, The New Mystics, Cosmos Reborn, Chosen for Paradise and Money. Sex. Beer. God.

Questions? Email us for more information at info@thenewmystics.org

---