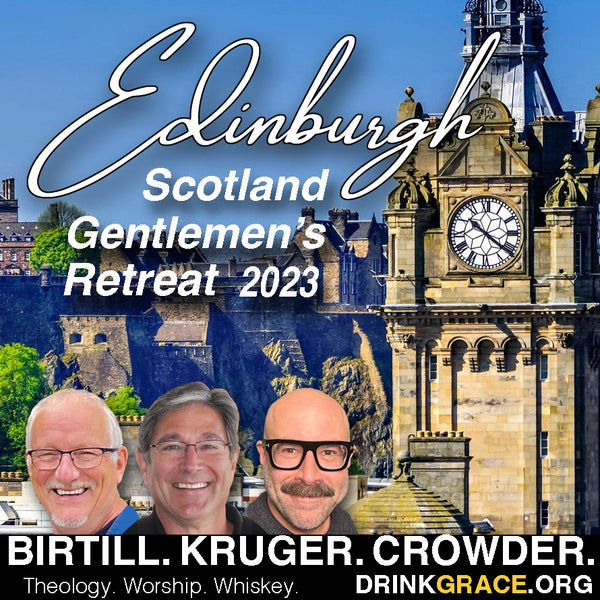 Scotland Gentlemen's Retreat *October 2023*
Three Days of Theology, Worship & Tasting Sessions ...

If you are a gentleman who appreciates theology and fine scotch, we are hosting a small, exclusive retreat in Edinburgh, Scotland the weekend of October 19-21, 2023. Back by popular demand, our Gentlemen's Retreats always fill up early, months in advance - space is extremely limited. (Our November retreat last year sold out in one week!)

John Crowder and Dr. C. Baxter Kruger, together with worship leader Godfrey Birtill will spend three days of conversation, theological discussion and worship together, along with premier tasting sessions, sampling from single malt distilleries in Scotland's historic capital. This unique getaway is designed to provide a few days of informal hang out, living room conversations and personal one-on-one interaction as we explore the mystical gospel of the Triune God of grace.
Glean some intimate time with John, Baxter, Godfrey and many familiar friends with mini-lectures, Q&A, live music and ... well ... a few healthy drams of fine usquebaugh. Academy recognized doctors of theology and fringe charismatic loons are not supposed to be friends by definition. But as the Lord draws us back to the marriage of Trinitarian theology together with supernatural Holy Spirit experience, we are seeing a convergence of streams and a fresh reformation as we return to both the Spirit and the Message championed by the early church fathers.
Come aside, treat yourself to a holiday and dive into rich discussion in an atmosphere of joy unspeakable ... in this historic, picturesque region that is the undisputed birthplace of whiskey ... bonnie Scotland.
LIMITED REGISTRATION
Space is extremely limited and thus reflected in the premium registration fee. Cost is $350 USD per person and does
not
including lodging, food or airfare.
This trip is strictly limited to the first 40 registrants.
Cost includes event registration together with two exclusive tasting sessions.
*Consider sponsoring your pastor!


Space is strictly limited!
Date: Oct. 19-21, 2023
When: Kicks off by 7 p.m. Thursday Oct. 19
Location: Edinburgh, Scotland UK
**You will receive a download link with schedule details, flight options and lodging recommendations upon registration ... options include stay in a local castle**
Cost: $350 Registration per Person
Gentlemen only.

Once this event fills up, you can email us to get wait-listed for any potential cancellations for that weekend. Although we cannot refund registration due to the strictly limited nature of the event, we can try to connect you with someone on the wait list who may want your ticket. Unfortunately we are unable to switch tickets for any future retreats.
Thanks for your understanding.
info@thenewmystics.org


We appreciate your support! The limited registration is geared to foster a smaller, exclusive retreat atmosphere for more personal interaction and intimate discussion with our lecturers. A significant portion of your registration goes to support our homes for orphaned children.
JOHN CROWDER - loves to push the envelope and provoke God's people to extreme joy! He is an internationally recognized author, speaker, and advocate of supernatural Christianity. John is on the forefront of a fresh renewal movement marked by ecstatic experience, miracles and recovering the foundational preaching of the cross of grace. As founder of Sons of Thunder Ministries & Publications, he hosts evangelism crusades, plants children's homes and equips the church at conference events worldwide. Along with his bi-annual magazine, The Ecstatic, John has also written seven books - Mystical Union, Seven Spirits Burning, The Ecstasy of Loving God, The New Mystics, Cosmos Reborn, Chosen for Paradise and Money. Sex. Beer. God.
DR. C. BAXTER KRUGER - is a theologian, writer and the Director of Perichoresis Ministries. Baxter is a native of Prentiss, Mississippi. He and his wife Beth have been married for 30 years and have 4 children. A life long student of psychology, Baxter has degrees in political science, divinity, and earned his PhD.from Kings College, Aberdeen University in Aberdeen, Scotland under Professor James B. Torrance. He is the author of 8 books, including The Great Dance, Jesus and the Undoing of Adam and Across All Worlds, and recently the international bestseller, The Shack Revisited. He teaches around the world. He is an avid outdoorsman and holds two United States patents for his fishing lure designs. He is also the founder and President of Mediator Lures.
GODFREY BIRTILL - has traveled extensively throughout the UK and abroad leading worship and preaching the gospel. His music resounds with themes of God's grace, Christ in us and divine love. Whether leading in pubs, churches, city prayer gatherings or at teaching seminars, he has a unique ability to bring together the good news with prophetic intercession and worship in a dynamic blend. He leads regular events near his home in Cornwall called Blissland. He and his wife Gill have four children and nine grandchildren. Godfrey has released 17 live CDs and two studio CDs. His songs include "Outrageous Grace," "Are You Ready?" and CBC Praise and worship song of the year, "Just One Touch From The King."
Questions?

Email us for more information at info@thenewmystics.org.

Also Coming to America in August 2023

---